Tamron Hall is Building a House Big Enough to Hear All Voices
As a TV journalist, Tamron Hall became a household name when she joined the NBC News organization back in 2007, but she got her start in local broadcast news. Now headlining her very own daytime talk show this fall, the vibrant host sat down this week to answer a few questions from Katz Media Group in celebration of National TV Talk Show Host Day this coming Wednesday, October 23rd.
INCLUSIVE PREMISE
Tamron said in her first episode that she wanted to "build a house big enough to hear all voices" and to "talk about community, what you can get from it and what you can give to it." Since then, THE TAMRON HALL SHOW has posted a relatively stable week-to-week performance, placing in the Top 10 among daytime household viewers.
FUN FACTS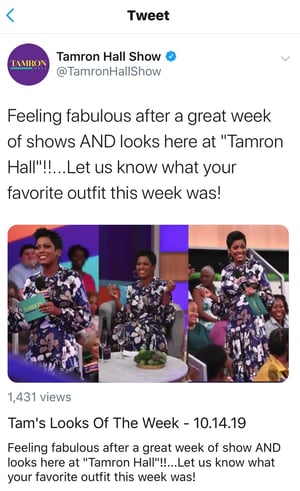 Tamron's show joined the Fall 2019 daytime talk show line up and airs alongside popular, long standing shows like Good Morning America, LIVE with Kelly and Ryan, Rachael Ray and The View.
Tamron loves to showcase her style by sharing her "Looks of the Week" on social media and asking fans which look was their favorite.
Every day a studio audience member is picked to be Tamron's right hand "ride or die" teammate who helps with handing Tamron her cards or may sometimes start the show!
GET ENGAGED
Tamron tapes her show in New York City with a dynamic mix of live and taped segments. Tickets are free and can be requested online.
At last count, Tamron's following was growing on social media with 89.2K fans on Instagram, 80.8K followers on Facebook, 26.5K fans on Twitter and 22.6K YouTube subscribers.
Learn more about what's happening in syndicated television with Katz TV Group's recent FLASH report.
Many thanks to Disney ABC for access to Tamron Hall, photography and video footage.
----
Are you an avid daytime viewer? Would you like to share your opinions about TV and Radio entertainment for the chance to win monthly prizes? If so, become a member of the Our Media community and you can not only give feedback to current program producers but also weigh in on new shows in development. Click the logo below to learn more!