Radio and Reaching the Small Business Owner
By Lisa Cirigliano
Radio's reach of 92% of the P18+ U.S. population is undeniable, but did you know that Radio is also a leader in targeting Self Employed/Small Business Owners and KEY business decision-makers?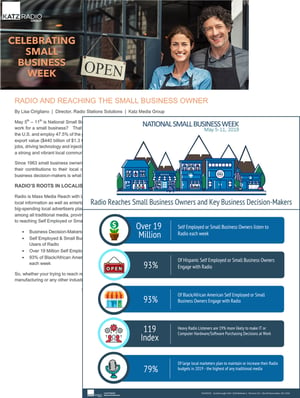 This week the U.S. Small Business Administration is celebrating the contributions that so many U.S. small businesses have made over the course of a year as well as highlighting what programs are available through the SBA for those people inspired to start a new business. Small Business is an integral part of our local and national economy, providing employment opportunities, bringing growth & innovation to the community , and often serving as a building block for larger corporations .. shout out to my friends Ben & Jerry!
Download the report and see how well Radio reaches these Small Business Owners and the up-and-coming leaders of industry!