The Infinite Dial Highlights Radio's Dominance in the Car
By Meredith Murphy
The Radio industry has some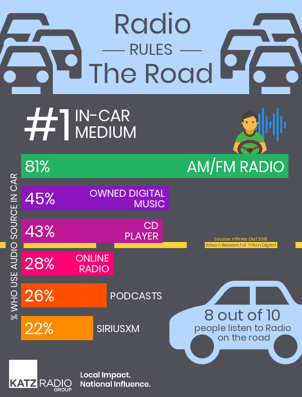 brand new in-car audio stats to tout from Edison Research and Triton Digital's 2019 Infinite Dial report, their annual look at digital media consumer behavior. For the in-car piece, they surveyed Americans 18+ that have driven or ridden in an automobile in the past month and
found that decidedly, Radio rules the road – boasting an 81% reach that considerably outperforms all other in-car audio options. In fact, AM/FM Radio's in-car reach is greater than online radio (28%), podcasts (26%), and SiriusXM (22%) combined.
The Infinite Dial also reports that in 2019, 84% of Americans 12+ own a smartphone and 19% of car users have in-dash information and entertainment systems - so consumers certainly have their choice of audio sources in the car. In the face of these options, the majority of Americans continue to spend the most time listening to AM/FM Radio. 3x as many consumers spend more time with Radio than online audio in the car and 250% more than owned music and satellite radio.
The automobile is an ideal place for advertisers to reach consumers – and Radio is the best medium to make that connection. Because it is the #1 audio choice for drivers and passengers, Radio dominates in-car messaging opportunities for brands to reach millions of on-the-go consumers. Marketers who rely on Radio know they are utilizing a medium that reaches consumers who are in position to act.
Source: The Infinite Dial 2019. Edison Research and Triton Digital