Get in the Game With Radio Play-by-Play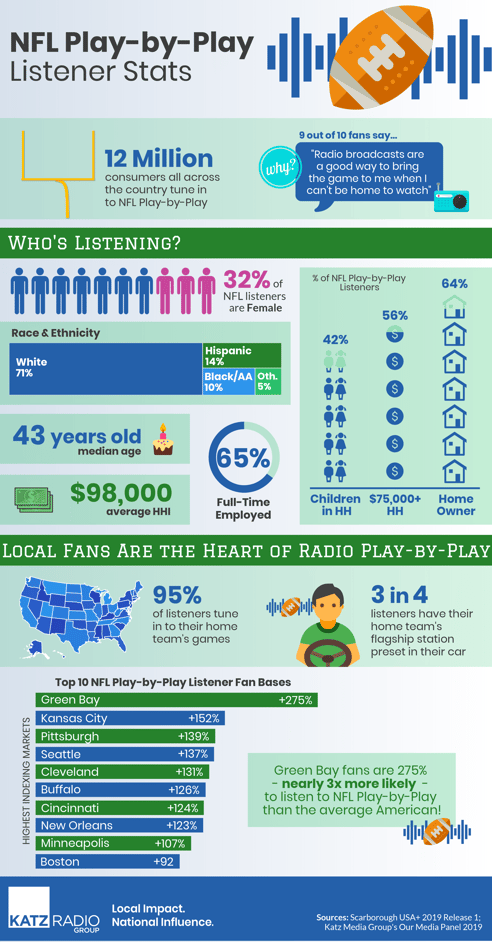 The NFL and Radio have something special in common - they are both celebrating a big anniversary in 2020. For Radio, it's the 100th anniversary of the first commercial station broadcast, and for the NFL, its 100th season. In honor of these coinciding centennials, Katz Radio Group took a look at some NFL Play-by-Play listener stats to show why Radio and NFL are a great matchup.
Who's Listening?
12 million consumers all across the country tune in to NFL Play-by-Play. To put that into perspective, the NFL Radio Play-by-Play audience is about the size of Los Angeles, the #2 Radio market and home of two NFL teams. NFL Radio Play-by-Play draws a broad cross section of NFL fans that say Radio broadcasts are a good way to bring the game to them when they can't be home to watch. Play-by-Play appeals to listeners across race, ethnicity, and gender. In fact, one in three NFL Play-by-Play listeners is female. Brands utilizing NFL Play-by-Play are connecting with prime consumer prospects, as 65% of listeners are employed full-time, with an average household income of close to $100,000.
Local Fans are the Heart of Radio Play-by-Play
Local fandom is the biggest driver for NFL Play-by-Play, with 95% of all play-by-play listeners tuning in to their home team's games. Three out of four listeners even have their favorite team's flagship station programmed in their car's presets. Listeners tune in to NFL broadcasts in markets all across the country, but some fan bases prove to be stronger than others. Katz found that some markets are twice – and even three times – as likely to listen to NFL Play-by-Play broadcasts than the average American.
Radio Play-by-Play is a touchdown for advertisers, delivering loyal, engaged audiences in local markets across the U.S. Smart marketers know to look for fans wherever they may be - not just in their homes. With Radio Play-by-Play, brands can do just that and connect with fans who listen to their favorite team anywhere and everywhere they can tune in to the game.
Sources: Scarborough USA+2019 Release 1; Katz Media Group's Our Media Panel 2019; Britannica.com
Learn more about how your brand can tap into the power of NFL Play-by-Play