Play-by-Play All-Stars
By Meredith Murphy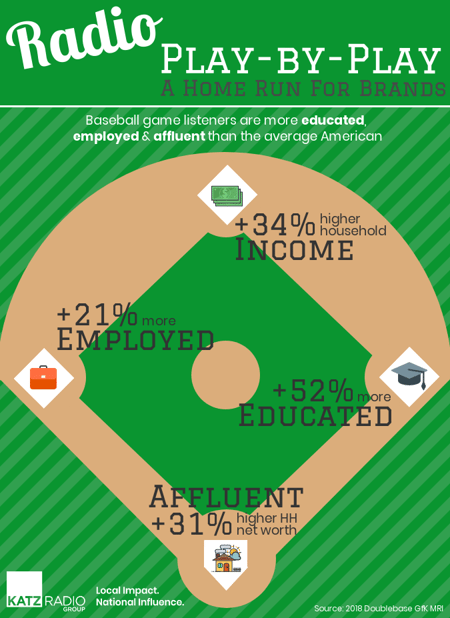 As the All-Star Game heralds in the midway point of the Major League Baseball® season, there are still exciting ways for advertisers to get in on the action. Radio broadcasts of baseball games are exclusive and engaging environments, known to draw more listeners than the top ranked morning and afternoon drive programs in the market. Loyal fans flock to their team's flagship station to follow the action, and advertisers turn to MLB® Play-by-Play to get in the game.
The Yankees. The Cubs. The Dodgers. MLB® Play-by-Play is a winning opportunity for advertisers to have their names mentioned alongside some of the biggest brands in local markets across the country – the hometown MLB® teams. With MLB® Play-by-Play, not only are brands earning a link to these locally embedded brands and their loyal audiences, they are reaching some of the most desirable prospects in the country as well.
Regular listeners to MLB® games are +21% more likely to be employed full-time and have household incomes +34% higher than the average American. These listeners are +52% more likely to hold a bachelor's or post-graduate degree, and their average household net worth, the aggregation of all their assets, is +31% above the average.
These characteristics help make MLB® Play-by-Play listeners all-star consumers for brands. They are decision makers for insurance, +55% more likely than the average American. They are also more likely to be heavy spenders on big ticket items such as autos (+28%), home renovations (+63%) and air travel (+90%). And they have big appetites too – more likely to be high grocery spenders (+31%) and frequent restaurant patrons (+80%) than their fellow Americans.
Radio Play-by-Play is a home run for advertisers, delivering loyal, engaged audiences in local markets across the U.S. As fans all over America tune in to the MLB® All-Stars on the field tonight, smart marketers know that the true all-stars are off the field – listening in their homes, at work, in their cars, anywhere they can tune in to Radio Play-by-Play.
Learn more about how your brand can tap into the passion of MLB® Play-by-Play