MEMORIAL DAY WEEKEND LISTENING
by Lisa Cirigliano | Director, Radio Stations Solutions | Katz Media Group
As we honor the memories of those who have passed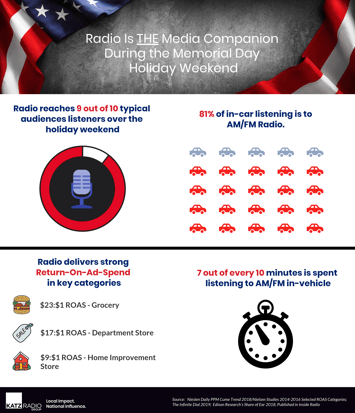 in service to our county this Memorial Day, we also celebrate the unofficial start of the summer season. For much of the country, that means hitting the road for getaways, cookouts, and even shopping. A recent travel survey by AAA estimates that 37.6 million Americans will be on the road this Holiday, that's an increase of +3.5% from last year. And a study by Vistar Media and MFour estimated that 74 million American adults planned to shop over the 2018 Memorial Holiday Weekend, spending an average of nearly $500 per adult. And of those shoppers, 7x more consumers planned to shop in-store than online.
As the first major holiday shopping weekend of the warm-weather months, deals are a-plenty over Memorial Day Weekend – traditionally on clothes, appliances, electronics & home goods. For brands looking to connect with consumers this holiday weekend, Radio is the smart choice – the #1 in-car medium, delivering mass reach and local impact for advertisers.
No media is immune to changes in usage over holiday weekends, especially Memorial Day where people are off from work or school, planning weekend getaways, staycations or even retail therapy. But whatever the plan is this holiday weekend, Radio proves itself to be a media companion that's accessible everywhere, maintaining stable reach throughout the weekend. When compared to Radio's average daily audience in 2018, the Friday leading into Memorial Day indexed at 107, delivering a 7% larger reach than the average day. Saturday retained 95% of the average audience; and both Sunday & Memorial Day Monday reached 8 out of 10 of the average audience.
Radio's ability to deliver messaging close to the point of purchase makes it a natural choice for retailers communicating their Holiday weekend promotions, with a $23:$1 ROAS for Grocery, $17:$1 for Department Stores and $9:$1 for Home Improvement Stores. Whatever your consumer is planning this weekend, Radio still maintains strong daily listening levels over the Holiday, reaching 9 out of 10 of Radio's typical daily audience on these atypical days. So, no matter the deliver platform; in-dash, smartphone, tablet or smart speaker … Radio is EVERYWHERE your consumer is.
Sources: The Infinite Dial 2019; Edison Research's Share of Ear 2018 as published in Inside Radio; Nielsen Daily PPM Cume Trend 2018, P6+; Vistar Media Press Release May/2018