THE EVOLVING NEWS LANDSCAPE
Part 1: How Information Overload is Impacting News Consumption
By Rod Murray | TV Strategist | Katz Media Group
The news cycle has turned from a once-a-day update on the day's events (with the occasional interruption for breaking news) to a steady firehose of information.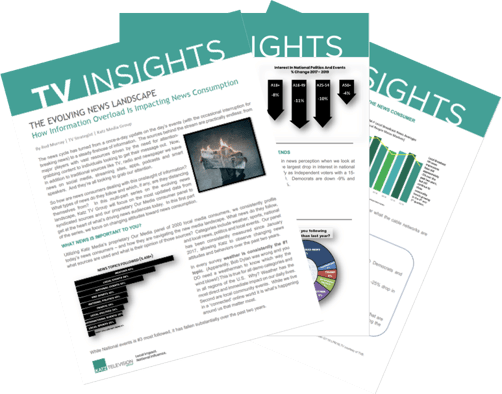 The sources behind the streams are practically endless: from major players with vast resources driven by the need for attention-grabbing content to individuals looking to get their message out. Now, in addition to traditional sources like TV, radio and newspaper we have news on social media, streaming sites, apps, podcasts and smart speakers. And they're all looking to command our attention.
So how are news consumers dealing with this onslaught of information? What types of news do they follow and which, if any, are they distancing themselves from? In our multi-part series on the evolving news landscape, Katz TV Group will focus on the most updated data from syndicated sources and our proprietary Our Media consumer panel to get at the heart of what's driving news consumption, including:
What kinds of news are still important to citizens daily?
What trends are visible in the national news marketplace?
How does political party affiliation impact news consumption trends?
What, specifically, is fueling "information overload"?
How are national and local television sources weathering the change in attitudes and behaviors?
Download the Report!