Celebrate Heritage!
By Lisa Chiljean
Thank you for celebrating Hispanic Heritage Month with us!
Over the past four weeks we have shared an abundance of information about U.S. Hispanics with you. We've included facts and figures in a variety of subjects, all of which highlight the power and value of the Hispanic marketplace: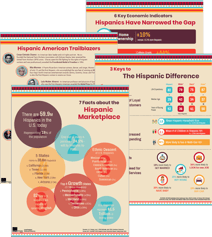 Population size and characteristics
Buying power and value
Household composition
Life stage characteristics
Growth in key indicators
Now that you have the facts, one of the best ways to take advantage of such a dynamic marketplace is through Radio. As we wrap up our celebration of Hispanic Heritage Month, download our Spanish Language Radio report to find out the benefits of using Radio to reach U.S. Hispanics.
But before you go, have some fun and see how much you've learned, by taking our Hispanic Heritage Month quiz.