THE NFL REIGNS ON BROADCAST TV
Lisa Hollaender | VP, Director of Content Strategy | Katz Television Group
Now that the field has been cleared on the 2020-21 NFL Primetime season -- regular, post and Super Bowl -- it's time to wrap it all up and reflect on what came to pass. After the last few seasons of an NFL resurgence in total audience viewership, there was a fumble on the play with declines from 2019-20. There is no denying the plethora of eyeballs the sport brings to broadcast television despite the drop off in performance this season. The formidable growth of streaming as an alternative to viewers and the COVID pandemic negatively butting its head into all areas of entertainment and sports this past season, may be contributing factors to the declines from year ago.
Download all the facts and figures with the slide presentation, excel worksheet and infographic to get ready for Fall 2021.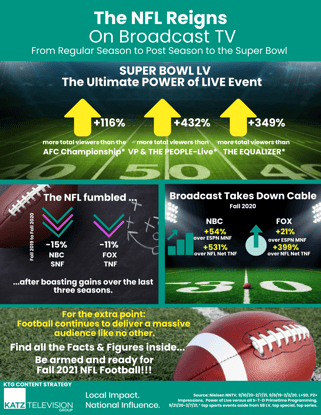 Highlights include breakdowns of the following:
*Regular season Primetime performance versus historical
*Post season Primetime analysis versus historical
*Super Bowl LV breakdown by half-hour and quarter-hour
*Super Bowl Trends and post entertainment programming
*Super Bowl Median Age, HUT/PUT and Audience Comp Trends
Get Your Copy of the Katz TV NFL Fall 2020 Primetime Wrap Up and Super Bowl Trends!