THE FALL 2019 NETWORK PRIMETIME PREVIEW
By Lisa Hollaender | VP, Director of Content Strategy | Katz Television Group
As August turns to September and activities change from swimming and sunbathing to pumpkin picking and football, television schedules also morph from summer to fall, tweaked with a combination of debuting new series and returning programs. While announcements were revealed in May, season performances scrutinized in June and new pilots viewed over the rest of the summer, Katz has assembled a "top-of-mind" refresher on what transpired this past season and what's to come when the 2019-20 season begins next week!
Traditionally, when the broadcast networks and a select number of ad-supported and pay cable outlets were the only choices, the Fall season was a time of excitement, anticipation and wonderment. What will be on the network Primetime schedules this coming season? Will my favorite show be coming back? Will that cliffhanger be resolved to my satisfaction? Will I still find it on the same night and at the same time as last year? Will the new programs I saw promos of this summer conflict with what I already watch?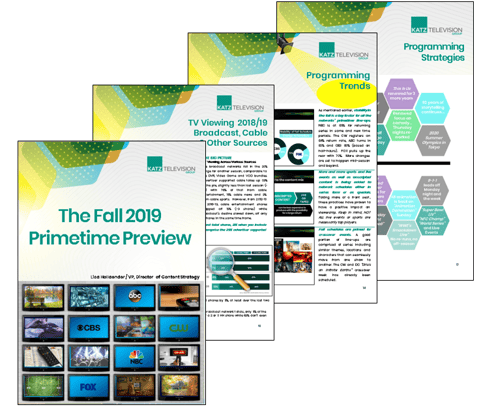 Over the years, we've witnessed an evolution of distribution channels from VCR's, DVD's, and DVR's to On-Demand and Streaming platforms, not to mention expanding ad-supported and pay cable networks and diginets. Not only that, but viewing is no longer relegated to TV's, but also desktops, laptops, tablets and smart phones. Content is now available anytime and anywhere and it doesn't have to be on a set schedule (although there are still plenty of viewers who like it that way.)
Today, our enthusiasm for new content has been tempered by an overwhelming amount of choice. There is plenty to compete with broadcast, and new content is available all year round on all fronts. Yet with all that choice, broadcast television still holds its own providing an incredible and unique opportunity to simultaneously reach consumers.
Katz Television Group's Content Strategy evaluates the new Fall 2019 television season by both reviewing past history and previewing what's ahead with all things Primetime..
Download the full report with infographics and a slide presentation to learn:
Broadcast performance against ad-supported cable today and historically
Trends in primetime genres
New series success rates
What's in store in the streaming environment
Synopses of network strategies, scheduling and links to new show previews
Get Your Copy of Katz TV's 2019 Primetime Preview!