Culled from the headlines of the media and technology trade press by Katz's Strategy, Analytics, and Research Team, Content Matters provides a periodic snapshot of news and issues that affect the business of creating, producing, and distributing content across TV, radio, and digital media.
2019 Q4 Special Issue - Comic Con
Here, content is all that matters
This may be a bit of a departure from what normally is presented here at Content Matters. Here, we'll go over a first-person account of a real-life content experience.
This was my own brush with not just a content experience, but an overwhelming one. We took my 12-year-old and his best friend to this year's New York Comic Con.
When it comes to costumes, my boy is all-in. One Halloween a couple of years ago he seemed miffed that his Anakin Skywalker Halloween costume was made on this planet. Authenticity is strong with this one.
So of all the mega fandom franchises to choose from (Marvel, Star Wars, DC, Harry Potter, Fortnite, Minecraft, etc.), our 12-year-old boys choose… TV characters. My boy was Dr. Who (the Tenth Doctor) and his friend was Crowley from Amazon Prime's Good Omens, each brilliantly played by the same actor, David Tennant (@David_Tennant if you're social). Their costumes were spot-on, solidly equal to many of the hardcore veteran Comic Con cosplayers. This was incredibly important to them.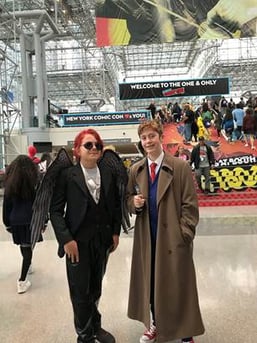 Why were the costumes such a point of pride? Well, when I asked what he was most looking forward to (merchandise, possibility of meeting celebrities, making connections with artists, etc.), he said that it was the social side that appealed most. Being among others who took it as seriously as he did, who were just as all-in.
That's what sets these types of events off from many others. It's not about simply being an overzealous fan of something that allows somebody to fit in or not (try wearing anything Ohio State in Ann Arbor, for example). This is a different experience than simple fandom.
This is an audience that's engaged to the point of saturation. They don't simply experience the content at these events with a bacchanalia of merchandise and screenings. Here, they actually become the content. Characters here who walk amongst you are you most days, but here, they bond with the content like nowhere else. They're not actors. They are fans. And they are the characters they wear, for all practical purposes. They are as immersed in the content that surrounds them as humanly possible.
And the content devotion is not siloed - here you see Star Trek officers seeking vintage Flash comics and Stranger Things kids trying to lift Thor's hammer. Anime characters ogling light sabers.
Or, if you're like my son and his friend, you simply find yourself being asked to have your picture taken. By strangers, always politely. Some in costume, some not, but by at least a dozen complete strangers who were suddenly tethered by content. And a couple of 12-year-olds who totally nailed it.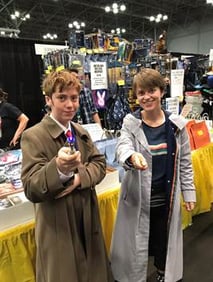 Moreover, he had an opportunity to do something else that would've been unheard of only a couple of years ago. He posed for a picture with another attendee who was dressed another Doctor. A female one. And not just a girl wearing a male Doctor's character. Here he was, a "first time" Doctor, posing with a first time female Doctor. By next year, he might go as Thor - with the possibility to pose with a female Thor (Natalie Portman is set to play Lady Thor in "Thor: Love and Thunder", slated for November 2021.) Female cosplayers are finally getting their heroic due, freed from the clutches of Catwoman, random anime, and fantasy characters. Another lesson of inclusion and progress from Comic Con.
Possibly the most unexpected costume was of the man dressed as the logo from local paper supplier W.B. Mason, complete with 1890s mustache. I didn't get a picture of him, but here's a look at the logo for those unfamiliar.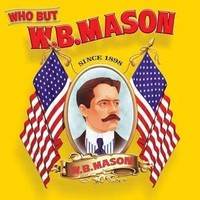 Lining Up For Broadcast
Naturally, I took note of the many mainstream TV shows that were represented here. In the vast merchandising section of the event here at the Javits Center (some might say it's bigger on the inside), in addition to the expected in-universe shows like Star Trek, Stranger Things, The Walking Dead, X-Files, Buffy the Vampire Slayer and even Spongebob Squarepants, there were products for Friends, The Office, The Golden Girls, Big Bang Theory, Parks & Recreation, Gilmore Girls, among others.
It wasn't just in the merchandising, either. NBC had a large promotional presence at NYCC, with huge signage promoting at the escalators for their comedy lineup, near a display where attendees could take pictures with small sets and props from some of their current shows like Superstore and The Good Place. Ironically, as we were standing in front of the area dedicated to The Good Place, two attendees dressed as Good Janet and Bad Janet from the show signed up for pictures.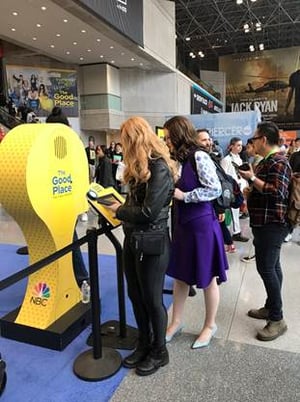 Having already seen a family dressed as the Bundys from Married, With Children, it became clear that fan devotion to characters extended beyond what you'd expect from a "typical" Comic Con attendee. This was a love of character. Of content. And it all had a home here.
Of course it's well known what sort of social impact the Comic Con universe has had beyond its initial sphere, how it's morphed well beyond fanboy culture and moved on to being a popular culture influencer. Non-fandom media sources regularly break news about content at these events - Tom Cruise unveiled the "Top Gun" sequel trailer at this year's event in San Diego. Here, CBS All-Access dropped the trailer for the new Star Trek: Picard series to premiere January 23, HBO Now and Damon Lindelof previewed the first episode of Watchmen. Tom Cruise was nowhere to be found, unless he was the W.B. Mason guy.
The Connective Value of The Fan Convention
The "Con" experience is a totally immersive one. And it's not just limited to Comic Con. In addition to the pop culture icons of Star Trek Conventions and Renaissance Faires, there are conventions for nearly every interest imaginable, and not just sci-fi, gaming, anime, and comics - LEGOs, Minecraft, steampunk, Stranger Things, clown conventions, Santa Claus, ventriloquists, DragonCon, Lincoln (yes, Abe cosplay), Merfest (mermaids, et al), and even FrancesaCon (for fans of Sports Radio WFAN's Mike Francesa).
Yes, even our 16th President and a sports radio host are in this world. For fan fests, anything is on the table. This is a world of ultimate imagination, so nothing is off the table. Just make sure to bring your A game, because these fans will call you on it if you don't.
The connective tissue is the content. For the fans of these genres, they live and breathe their passions. They don't just binge the content. They're recidivist consumers, binging to the n-th degree, then watching again for small details they may have missed. These are the fans who can stump stars of their infatuation with minutiae even the creator hadn't considered ("In episode 3 of season 6, you had a red stripe on your uniform. Wasn't that only for officers who had Centrillion certification? You didn't get that until episode 11.")
Which brings us to the critical piece for brands, advertisers, and any other entity that jumps into this world. Authenticity. These are fans who not only value the purity of their topic, but expect the same level of detail from anything or anyone associated with it. So if you get lazy in your references - mention "Dr. Spock" from Star Trek or repeat the common misquote from Darth Vader (it's not "Luke, I am your father"), the credibility that you're aiming for with this target will be obliterated - like leaving an open exhaust port in the Death Star. And you will be mocked, knowingly and mercilessly, throughout the community. Then shunned.
That's how important attention to detail is to this world.
Content is everything.
But nail the connection, and you'll be in their inner circle. That's the goal.
But for us, this year was to see and be seen. What I saw opened my eyes to the power of content. What my son saw was far more transformative - and empowering..
We even found a very appropriate outdoor ad after we left, where he learned a bit about tie-in ads and character placement.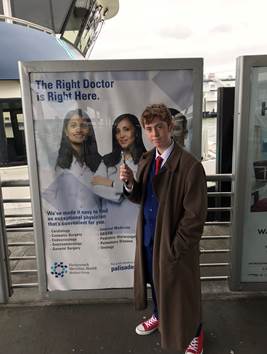 I'm sure we'll be back again next year. Pretty sure we won't be dressed like Bad Janet. But as I've learned at Comic Con, I wouldn't rule anything out.
For a recap of the 2019 NY Comic Con, go to "New York Comic Con: The Best of NYCC 2019", from IGN.com, or for even more perspective, try "The Den of Geek Podcast: NYCC 2019 with Marshall Julius".
Don Seaman
Don Seaman
Content Strategist, Author
Don Seaman is on special assignment at Katz Media Group, lending his strategic cross-media experience from roles at major players in the marketing ecosystem such as Nielsen, the ANA, and the TVB. Don is an exceptional writer and "the voice" behind Katz's monthly Content Matters newsletters.
Enjoying Content Matters? Subscribe: