THE EVOLVING NEWS LANDSCAPE
Part 2: Local News connects Communities
By Rod Murray | TV Strategist | Katz Media Group
Even with the dozens of TV news channels available in households today,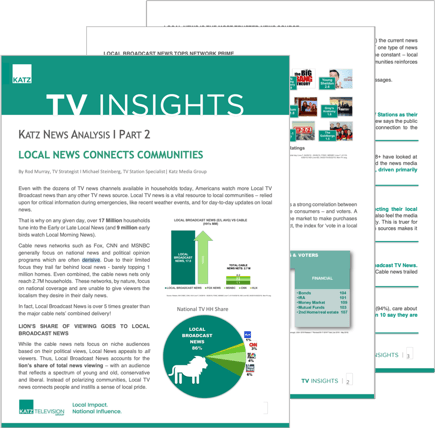 Americans watch more Local TV Broadcast news than any other TV news source. Local TV news is a vital resource to local communities – relied upon for critical information during emergencies, like recent weather events, and for day-to-day updates on local news.

That is why on any given day, over 17 Million households tune into the Early or Late Local News (and 9 million early birds watch Local Morning News).

Cable news networks such as Fox, CNN and MSNBC generally focus on national news and political opinion programs which are often derisive. Due to their limited focus they trail far behind local news - barely topping 1 million homes. Even combined, the cable news nets only reach 2.7M households. These networks, by nature, focus on national coverage and are unable to give viewers the localism they desire in their daily news.

In Part 2 of Katz Media Group's analysis of the Evolving News Landscape, learn:
The truth about audience sizes for various TV news outlets
How news viewership sizes up against Primetime viewing
How local news viewership drives consumption and voting trends
What nationally-recognized research studies have found recently about local TV news viewership
Get the Report and Accompanying Slides!