The ABCs of Back-to-School
By Meredith Murphy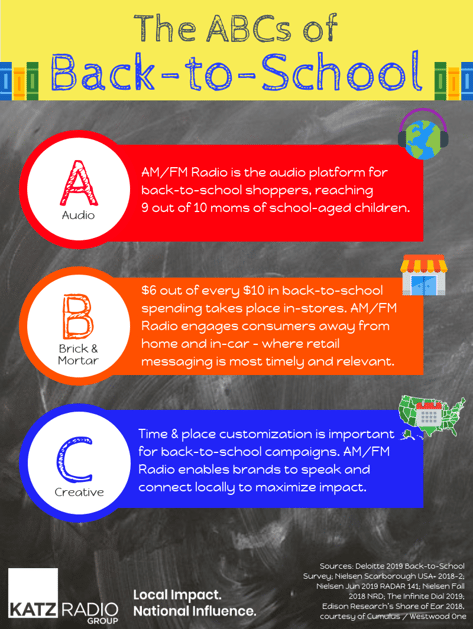 The back-to-school season is one of the top consumer spending events of the year, affecting 29 million households and bringing in over $27B, according to Deloitte's 2019 Back-to-School Shopping Report. The scope of back-to-school goes well beyond your standard school supplies – involving retailers in the clothing, accessories, and electronics categories as well. Here are some quick insights to show why these marketers should think AM/FM Radio for back-to-school.
A is for Audio
Audio is hot right now. It is in the middle of a renaissance, enjoying growth across all platforms, both over-the-air and digital. The industry is abuzz with the explosive growth of smart speakers and podcasts, and marketers are exploring ways to get in on the audio action. AM/FM Radio offers back-to-school marketers the best platform to get their messaging out. According to Nielsen Scarborough:
AM/FM Radio reaches 9 out of 10 moms of school-aged children, more than any other audio platform.
More of these moms engage with AM/FM Radio than Broadcast and Cable TV.
AM/FM also delivers the same number of moms in one week as mobile internet does in one month.
B is for Brick-and-Mortar
Deloitte reports that consumers are expected to spend an average of $519 on Back-to-School shopping this year – and just as in previous years, most of those dollars (56%) will be spent in-store. Brick-and-mortar stores remain the channel of choice for traditional school supplies and clothing, though online channels offer competition in such categories as computers and electronic gadgets.
AM/FM Radio is an ideal platform for back-to-school campaigns to target these brick-and-mortar destined shoppers. Nielsen finds that Radio consumption is predominantly away from home (68%) and aligns with prime shopping hours – used when retail messaging can be most timely and relevant. Edison Research reports that Radio dominates in-car messaging opportunities – consumed by 81% of drivers and making up 7 out of every 10 minutes of in-car audio. Radio brings results as well; according to an RAB study, Radio drives incremental store traffic (+22%) among consumers exposed to Radio spots.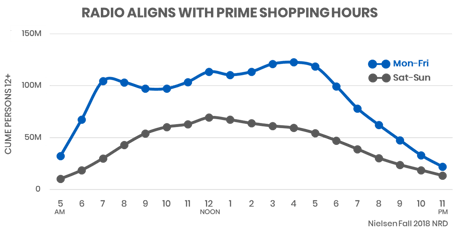 AM/FM Radio can be used to create excitement at retail locations by hosting appearances in key markets. Katz has found that 51% of listeners have gone to a store location while their local station was making an appearance. Today's consumers are looking for experiences while they shop, and Radio can deliver.
Regarding those consumers planning to do their back-to-school shopping online, Radio can drive results there too. Radio is an effective driver of web traffic and online search activity. According to the RAB, Radio ads generate an increase of +29% in online search related activity across categories.
C is for Creative ( ... and Calendar, and Customization, and Connection ... )
There are many Cs in back-to-school, which all end up tying into Radio creative. Radio is mass media with local impact and the best way marketers can maximize this impact is through their creative.
The back-to-school season is calendar (another C!) driven, but with no official start or end date for the country. Rather it is looked at in terms of lead time before the moving target of the first day of school. School start dates vary greatly across the country - children in Phoenix are less than two weeks away from classes, while the lucky kids in New York still have over a month to go before they head back. Using school start dates as the baselines, Deloitte finds that the shopping season starts as early as 12+ weeks out, but peaks between 4-6 weeks. The heaviest spenders tend to be the procrastinators; those shopping within two weeks of the start of school spend twice as much as those shopping four weeks out ($889 vs $433). The timing and spending levels for back-to-school shopping can also be affected by state-sponsored Tax Free events and sales events like Amazon Prime Day, which tend to fall in the two to four week window, depending on the market.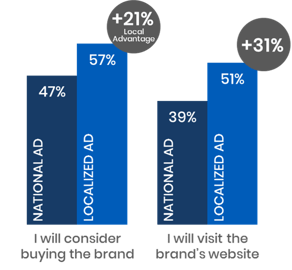 Which brings us to an important C - Customization, local customization in particular. Sales messaging needs the flexibility to vary locally in order for marketers to fully capitalize on the back-to-school season. Tailoring messaging to the timing of the market's back-to-school rush and state's Tax Free event will help create a targeted push to hit the right consumers in the right markets at the right times. Katz's research has also found that localized Radio ads amplify results, leading to +21% higher brand consideration and 31% higher intent to visit the brand's website.
Speaking locally also allows brands to tap into the truly local assets of AM/FM Radio: on-air personalities. Radio listeners have deep, personal connections (another C!) to their favorite personalities, and 7 out of 10 know whether they have children or not. This level of connection translates to a platform of authenticity for back-to-school brand ambassadorships and endorsements. That is why 77% of listeners would try a brand recommended by their favorite personality.
Now you know your ABCs
Wherever back-to-school dollars are being spent, at mass merchandisers, department stores, online, or elsewhere, Radio is the medium to reach shoppers – able to hit the right consumers at the right place and time to make an impact and influence their purchase behavior.
Get Schooled on Back-to-School